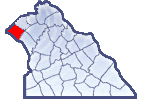 FRANKLIN TOWNSHIP INVITATION TO BID COUNTY LINE ROAD PAVING PROJECT
Sealed proposals will be received by Franklin Township of York County, at 150 Century Lane, Dillsburg, PA 17019, until 4:00 p.m. July 9, 2019, for the following: County Line Road Paving Project.
Provide and place paving material per below, complete with traffic control and restoration for County Line Road and Lost Hollow Road as specified.
145 SY, Base Repair; 150 TON Leveling/Scratch Course; 19,400 SY 1-1/2″ Overlay Wearing Course.
Bid Forms and specifications may be picked up in person at the Township office during business hours or by calling 717-432-3773 or by email at franklintwp@pa.net . Contractor may schedule a review of the proposed work with Municipality's Representative prior to bidding.
Proposals must be upon the forms furnished by the Municipality. The bid must be accompanied by a certified check or bid bond in the amount of 10% of the bid, made payable to the municipality. The project is subject to Pennsylvania Prevailing Wages. The Municipality reserves the right to reject any or all proposals. Teresa M. Adams, Franklin Township Secretary
Roadmaster
Franklin Township
– Dillsburg, PA 17019
The normal hours of this position are 7:00 AM – 3:30 PM. Other shifts are sometimes required due to snow plowing, road issues, etc. The Roadmaster is responsible to the Board of Supervisors for the development of all phases of road construction and maintenance in the township; scheduling work/road crew for work activities necessary to carry out planned work; keep records on hours worked and personnel attendance; oversee maintenance of all equipment and report on the operation or need for additional and/or replacement equipment; authorizing purchases within the road department; investigate road complaints directed to him or the Supervisors; accountable for dealing with personnel matters in the road department and reporting problems to the Board of Supervisors as well as initiating corrective action if necessary. Other responsibilities include attending the regular monthly meetings of the Board of Supervisors; having a current PA Class A -CDL Driver's license. Other duties as directed by the Board of Supervisors.
Job Type: Full-time
Salary: $50,000.00 to $60,000.00 /year
Experience:
Roadmaster (preferred) or Road Crew/Worker work: 3 years (Required)
Education:
High school or equivalent (Required)
Shifts:

Morning (Required)
Mid-Day (Required)
Evening (Required)
Graveyard (Required)

Required travel:

Benefits offered:

Paid time off
Health insurance
Dental insurance
Other types of insurance
Retirement benefits or accounts
Commuting/travel assistance
Franklin Township Weather Notice : 11/13/2018
Due to inclement weather being forecast for Thursday, 11/15/2018, Franklin Township, York County, PA parking restrictions will be in effect Thursday, 11/15/18 from 10:00 a.m.  until 6:00 a.m. Friday, 11/16/2018.
If you have any questions or concerns please contact the Township office during normal business hours:
Monday – Friday 8:30 a.m. – 4:30 p.m.; 717-432-3773 
http://www.franklintownship.org
Thank you
Make sure you are "winter ready" this season!
Invitations to Bid: